Gift Cards
Birthdays, Holidays, Any Special Day... A Gift Card to Levis Commons is the perfect gift for any occasion. Gift Cards can be used at most of the stores, restaurants and the movie theater at Levis Commons. Please see the full list of participating merchants below. Purchase gift cards at the Gift Card Kiosk in the Preston Building Arcade and online at your convenience. Or, visit the Management Office M-F 9am-5pm.
Gift Cards purchased online will need to be picked up at the Gift Card Kiosk.
Buy a Levis Commons gift card through our secure portal by clicking the "Purchase A Card" button below.
Click Here to Purchase a Gift Card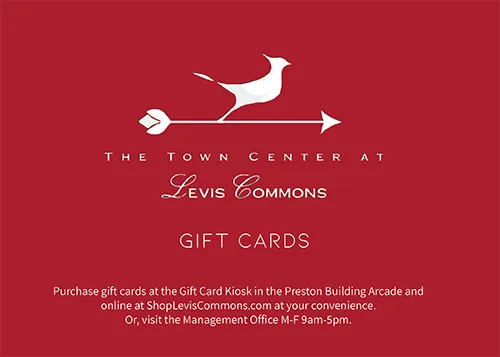 The Levis Commons gift card is graciously accepted at these retailers:
Merry by Madison Paul
School of Rock
Storm & Sky
Unsure if a store accepts the Levis Commons gift card? Please contact the store directly and check back for updates.